Hello, wrestling fans of the internet, my name is Jordan Chaffiotte and I am your Part-Time Champ. There was a point many years ago when I spent hours and hours each and every week consuming wrestling. Then life caught up to me and I found wrestling to have a hard time fitting into that whole work-life balance. Don't get older, kids, it's a trap.
With the surge of great content out there and a diminishing amount of time to consume it, I decided to give up being a full-time wrestling fan and trade it in for part-time status. Twice a month or so, I'll dust off my boots and step into the ropes to give you all the hottest of takes based on little to no context. How do our favourite wrestling shows land without all of that preparation? Do they stand alone, can they get me invested without weekly programing? Will not having it make the shows better or worse? That's what we'll find out when the Part-Time Champ Watches. 
Today, the Part-Time Champ Watches AEW's Full Gear. Admittedly, I haven't seen a whole lot of AEW in general since they happened right around that getting old thing. That said, I think they're great for wrestling and have wanted to find the time to get to know their product better. You can also check out a review written by a person who actually knows what's going on here.
Here's what I know going in: Jon Moxley broke the internet when he dropped that dope Mox returns promo video and since has been living it up on the Indies and in AEW. Kenny Omega is maybe the greatest wrestler on Earth. He has an epic love story with Kota Ibushi, but I don't think that's relevant here. They're fighting and it's gonna be great. That's the only actual match I know of, but I remember something about the Young Bucks fighting another high profile tag team. Chris Jericho is the top champ, I think, and I'm excited to see one of my all-time faves again. And that's it. I'll write my takes live and then head to the hive mind to see how it compares to the rest of the internet. Let's get to it. 
This isn't my first AEW show, but I haven't seen a whole lot of them coming into their own as a promotion. They've done a good job of distinguishing themselves from the competition (who they mention too often but whatever) by positioning themselves as the most real one. The presentation, from the documentary-style promo videos to the time limits and the judges all make the whole thing feel more similar to MMA than WWE. That's certainly intentional and I think it's working for them. It feels like WWE is Sports Entertainment and AEW is Sports Entertainment. So I understand why people like AEW so much, even if personally, I'm here for the Shakespearean drama of wrestling. My biggest criticism of the night: needs more Shakespearean drama. 
My wifi struggled with B/R live through the entirety of the preshow and when it finally evened out, the women's match was over. Much like Bea Priestley, when I came to, Awesome Kong was here with a knife and a belt of human hair. I imagine I was more into it than Bea, though. Despite not seeing any of Brandi's transformation or ever seeing Awesome Kong wrestle outside of Glow, I was immediately sold. Just like, put that knife away, please. Daniel Radford of Tights and Fights fame pointed out that it reminds her of Lucha Underground's Catrina and Mil Muertes which is probably why I'm here for it right away. That does leave me wondering though, who is in control here, Kong or Brandi?
The Young Bucks are not, in fact, the World Tag Team champions but they ARE fighting another notable team in Proud N Powerful who are apparently friends with Chris Jericho. I'm not saying that I too would pick Chris Jericho over The Elite, I'm just saying…wait no that is what I'm saying. Can you blame me?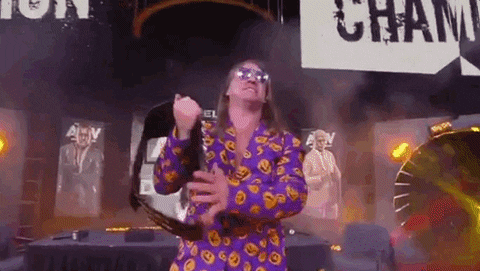 We'll get to him later, but his boys put on a good showing too. After watching this match, I can honestly say that I get the Bucks now. I don't necessarily like them, they might not be my particular thing, but I understand why they have the following that they do. There were several incredible spots and I never stopped guessing what would happen next. It was an overall fun time, and if you put a Young Bucks match in front of me right now I wouldn't say no. Oh and the Rock N Roll Express is here, that's nice. In addition to being part-time, I'm also a relatively new fan. I only got into wrestling in college so I don't react to the same nostalgia pops as others do. Seems a bit weird they got the drop on the Inner Circle but hey, can't teach experience. 
We'll skip past the majority of the undercard, this ain't no play by play. Here's my big take away: everything was very impressive and I enjoyed my time with AEW. What I kept feeling like I was missing was why this personal. To me, that's what's so powerful about wrestling, the human element. Maybe over time, I'll pick up on patterns but for my first honest go, I didn't always get what I needed from the presentation.
Now it's time for The Part-Time Champ's Miscellaneous Takes of Varying Degrees:
Bastard PAC vs Hangman Adam Page: Damn I have really missed PAC. I love this guy and the Brutalizer is well … Brutal… it's just really good okay? This match just highlighted for me that WWE did not know what they were doing with this guy and he was capable of so much more than what they saddled him with. So glad he's found his greener pastures.
Shawn Spears vs Joey Janella: While I have also missed the artist formerly known as Tye Dillinger, this match did not highlight for me how WWE didn't know what they were doing with him. It's not that I dislike him, per se, I like him, I do! I just also forget he exists the moment he leaves my sight. Here's hoping that he eventually cracks the code and shows us just how charismatic he can be even without a ten sign. Also, is Tully Blanchard here supporting Shawn Spears over watching his own daughter on Impact's show? I'm not saying I'd choose Tessa Blanchard over Shawn Spears but…
Triple Threat for World Tag Team Championships: I've also seriously missed Penta since Lucha Underground turned out to be a trash company and folded. He's just so mesmerizing and has that intangible charisma and… And did we just do the 2 Spidermen Meme? Alright AEW. Christopher Daniels is back, I don't know where he went but he was gone and now he is back. Fabulous, I love it.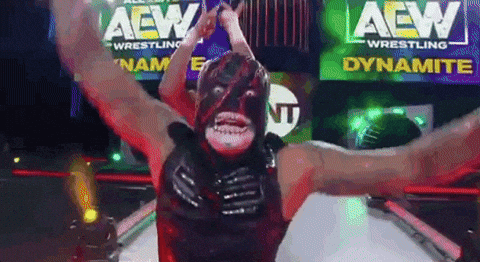 Women's Championship: This style is really different to me and that can make it hard, but I appreciate that AEW is exposing me to the wide world of wrestling. Erik Beaston of B/R points out that for a division that is so rich in talent, it's plagued by a pretty consistent lack of story. Maybe this particular feud needed the supplementary build to really get the teacher/student emotional crux across, or maybe my idea of what that story looks like is too narrow and Western. Either way, while AEW is walking the walk with their commitment to multiple styles of wrestling when it comes to their commitment to women's wrestling, it feels like they're still just talking.
Okay back to the action. Much to my delight, not only is Chris Jericho still AEW World Champion and fighting someone, that someone is Cody himself. Historically I've been a bit of a WWE loyalist so it didn't take much for me to get into this match. The thing about Cody is we've all gotten to see this incredible journey in real-time. He's always had a bit of that magic that Dream was known for, you would've had to in order to get Stardust over. We saw him struggle to turn any of his natural charisma into true success in WWE. We all read his match bucket list and some of us may have even snickered at it. In the last few years, Cody has become one of the biggest stars in wrestling, period. Experiencing that as it unfolded, you don't really need much more information to become invested in this match. Undesirable to undeniable isn't just a slogan to put on a t-shirt (but like, want.) It's real.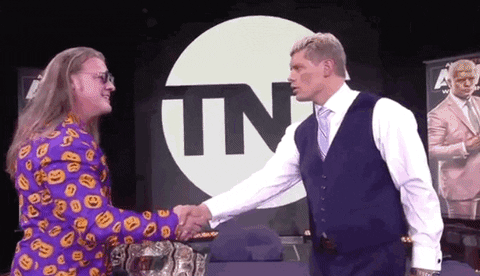 They positioned this match with the question being could Cody balance fighting for the championship with running the company. I think that's a miss because that story paled in comparison to the first one. The moment that gave me chills was Cody stating that he "wanted to beat this guy ten years ago, and believed that I could." As I said, they mention the competition too often, but it serves them well in cases like this. The shared history of these two men built a rock-solid foundation for an otherwise new feud. On top of that, Jericho is doing excellent work as a heel. I chuckle every single time he says Le Champion. He's the greatest, he just is. 
I'm pretty comfortable saying this is my match of the year. It was bold (even if I would prefer about 90% less blood), emotional, and technically impressive. It was among the best things I had seen all year. The only problem for me is the ending. Here's the thing, MJF looks like too much of a heel for me to buy into him being a face. The man wears a scarf! Name me one male wrestler who wore a goddamn scarf as a face. Scarves are for heels, just ask Jericho. If I don't buy you as a face, I'm not going to care about you turning heel. This was a big deal to a lot of people who it seems had been waiting for MJF to turn, probably because they too saw the scarf. Personally, it seemed a tad cheap and took the match down just a bit. I'm told it makes Cody sympathetic, but I always think Cody is sympathetic, no matter what he's doing. 
Then it was time for the main event after the main event: Mox vs Omega in a Lights Out Match. Why, yes, I WAS wondering if they were actually going to fight with the lights out. Turns out they actually just turn them off and turn them back on and then the rules don't apply. Interesting. Look, I don't like blood and hardcore wrestling but I respect its place in the industry and I appreciate the "your music your way" philosophy. However, unlike Cody, I'm not quite so open-minded and I do have rules. Rule 1: nothing that causes long term harm. Rule 2: make it as safe as possible, specifically in cleaning up blood because bloodborne pathogens are no joke. Rule 3: it has to be meaningful to the story in some way. I'm not sure I fully felt that last one. Without watching it for the past few weeks I was left wondering why we were doing this, other than the fact that Mox has a penchant for sharp objects. I ended up turning it off halfway through because I started to feel sick to my stomach. 
All in all, I enjoyed watching Full Gear and didn't feel like I missed that much by not watching week to week. The cult of personality around AEW is still a bit off-putting for me in general, but I'm more interested in it than I was before. Maybe after a few of these, I'll start to really understand AEW. Or maybe, I'll just be more confused. That's just the life of a part-time champ. 
Join us next time for a doubleheader of NXT TakeOver: War Games and Survivor Series. I'm off to hang up my boots and get back to my day job.  
All gifs via @AEWonTNT