IMPACT Wrestling team up with The Wrestling Revolver to bring No Surrender live from The Brightside in Dayton, Ohio. When IMPACT and The Wrestling Revolver join forces, it's sure to be an unforgettable night of action. The show will air on Impact Plus and Fite TV at 6.30 PM CST (12.30 AM GMT).
It was a shocking turn of events when Rich Swann pinned World Champion Sami Callihan in an impromptu tag team match on the November 5th episode of IMPACT. Luckily for Sami, the title wasn't on the line but it will be when these 2 warriors clash at No Surrender.
It's an opportunity of a lifetime for Swann as he becomes one step closer to achieving his ultimate goal of becoming IMPACT World Champion. Dethroning the reigning champ will be no easy task, however, as No Surrender takes place on oVe's stomping grounds of Dayton, Ohio. There's no doubt that Sami will have the hometown advantage and wherever Sami goes, you know his loyal followers won't be far behind.
Taya Valkyrie continues to impress fans around the world with her record-breaking Knockouts Title reign. There seemed to be no end in sight – until now.
At No Surrender, Taya Valkyrie must defend her Knockouts Championship against one Knockout who she's never been able to conquer, the terrifying Havok. In the past, Taya's loyal follower John E Bravo has inserted himself into these matchups, either causing the disqualification or allowing Taya to retreat all-together. Taya will have to formulate a new plan if she wants to escape Dayton, Ohio with her Knockouts Title intact because Havok knows what's coming.
If Ace Austin thinks he's done with Eddie Edwards, he's dead wrong. At No Surrender, this ultra-personal rivalry continues when Eddie and Ace do battle in a Tables Match.
We all remember Ace Austin's attempts at sleeping with Alisha Edwards. After months of lies and deceit, he was ultimately unsuccessful. Now, Eddie has the chance to teach Ace a lesson he will never forget and it comes in a match where tables are completely legal. You heard that right, this one isn't about pinfalls or submissions. All you have to do to win is put your opponent through a table.
However, Eddie must have eyes in the back of his head. As we've seen in recent weeks, wherever Ace Austin goes so does Reno Scum. Whatever happens, we are guaranteed that someone is going through a table at No Surrender.
Reinforce the ring because the big boys are coming to No Surrender. Get ready for this unique Hoss Fight Scramble featuring Brian Cage, Acey Romero, Madman Fulton, Willie Mack and Crash Jackson. There's no telling what will happen when these five combustible elements compete in the same ring, at the same time. Who will leave Dayton, Ohio with all the bragging rights?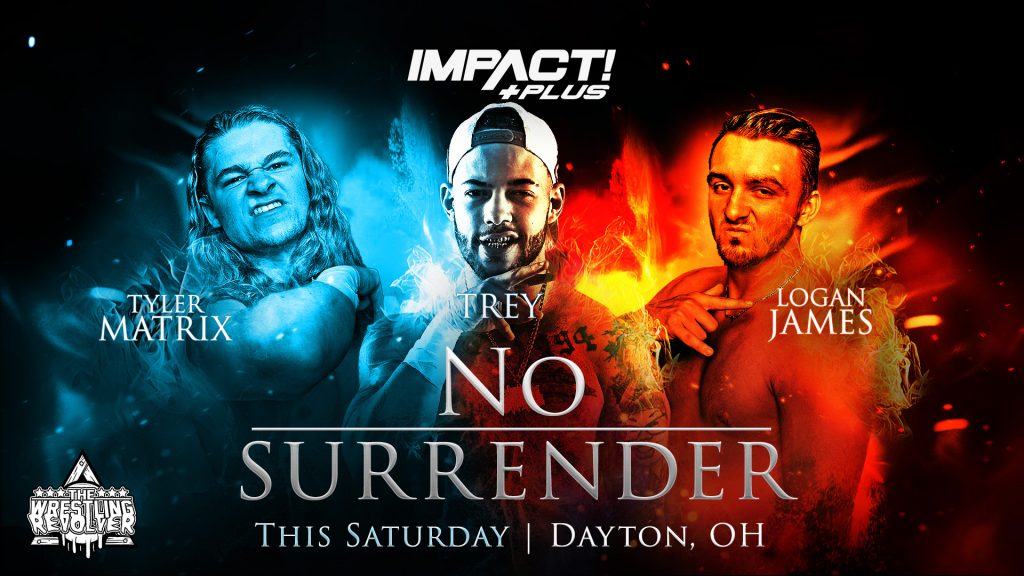 Trey takes to the skies against The Wrestling Revolver's Tyler Matrix and Logan James in what is sure to be an action-packed three-way match at No Surrender. We know that Trey will challenge X-Division Champion Ace Austin at Hard To Kill and will be looking to build momentum on his way to that huge opportunity.
In another battle of big men, Michael Elgin squares off against Larry D from The Wrestling Revolver. Hot off a victory over Brian Cage and Eddie Edwards this week on IMPACT, Elgin will be looking to continue his dominance at No Surrender on IMPACT+. Will he leave Dayton with the win or will Larry D derail his momentum?
The Locker Room Leader Madison Rayne has a tall task in front of her as she takes on Rosemary this Saturday at No Surrender. Madison and Rosemary are Knockouts veterans, both jockeying for position in one of the most stacked women's divisions in the world. Whoever leaves with the victory will surely move one step closer to earning a shot at the Knockouts Title.
The Desi Hit Squad, oVe and The Rascalz are set to collide in a chaotic 3-way tag team match at No Surrender. These teams are no strangers to each other and involving all three of them in one match is going to produce fireworks. Don't blink or you might miss something.
Before he faces RVD in an Old School Rules Match with Tommy Dreamer as special referee next Tuesday on IMPACT, Rhino will appear at No Surrender this Saturday on IMPACT+. What are Rhino's intentions? Will someone be on the receiving end of a Gore?
IMPACT Wrestling returns to the Diamondback Saloon on December 8th. IMPACT Wrestling Motown Showdown 2019 will be a live Twitch special featuring all your favourite IMPACT Wrestling Stars at 7 PM CST (1 AM GMT).
If Sami Callihan is able to defeat Rich Swann with his World Title on the line at No Surrender, his work will be far from over. The following night at Motown Showdown, Callihan will defend the IMPACT World Championship against the rampaging Rhino. The Diamondback Saloon in Belleville may not be able to contain these two with the World Title on the line.
For months, Taya Valkyrie has been trying to persuade Rosemary to be her friend. If they can score this tag team victory at Motown Showdown, her dream may become a reality. We can only imagine why Taya wants to be friends with Rosemary. Perhaps to ensure her record-breaking Knockouts Title reign continues long into the future. However, Taya may not even be Knockouts Champion by the time she makes it to Belleville as she will defend against Havok the night before at No Surrender. Regardless of who holds the gold, the Knockouts will take centre stage at Motown Showdown when Taya and Rosemary battle Havok and Madison Rayne.
Who could forget the incredible match Brian Cage and Michael Elgin had for the World Championship at last summer's Slammiversary? Now, these two top contenders run it back this Sunday at Motown Showdown. Both men want nothing more than to be the absolute best but on this night, only one can leave Belleville with the win.
Amidst his rivalry with Trey, Ace Austin will have to put the X-Division Title on the line against another member of the Rascalz, Dez, this Sunday at Motown Showdown. If Dez is somehow able to pry the title away from the reigning champion, we could see two of the Rascalz collide for the X-Division Title at Hard To Kill as Trey is currently scheduled to face Ace at the event. Let's just hope Dez doesn't bring his mom to the event because we know that Ace has trouble containing himself in those kinds of situations.
Sami Callihan is looking to give Madman Fulton a tune-up at Motown Showdown when he goes one-on-one with Eddie Edwards. This comes ahead of Madman's big singles bout with Tessa Blanchard this Tuesday on IMPACT. You would be hard-pressed to get two crazier individuals into a ring at the same time so keep your eyes peeled.
Rich Swann could be walking into this match with the World Title around his waist if he defeats Sami Callihan at No Surrender on IMPACT+ the night prior. If that's the case, you can bet Swann will have an even bigger target on his back when he joins Willie Mack to take on Callihan's oVe goons in Dave and Jake Crist.
There is no shortage of teams jockeying for position in IMPACT's tag team division. Two of those teams go head-to-head at Motown Showdown when Mahabali Shera and Rohit Raju of the Desi Hit Squad battle Trey and Wentz of the Rascalz.
IMPACT Wrestling is airing on Tuesday at 8/7c on AXS TV in the USA. The show is available to view in the UK from 2 am Wednesdays on the IMPACT Plus app and airs at 9 pm Wednesdays on Fight Network UK (Sky 192/Freesat 161), (circa) 11 pm Fridays on 5Star and repeated on Fight Network UK at 9 pm on Sundays.
All pics courtesy of Impact Wrestling