After a very impressive Dynamite, I'd be lying if I said that Dark lived up to the success of the last few weeks. Hell, I knew there was going to be a time sooner rather than later when one week the show would just fall a bit short and maybe this was that week. Not even with the introduction of new Dark co-host Dasha Gonzalez as eye candy and a new dynamic for Tony Schiavone could this week's episode pull out the kind of stops that I've become accustomed to each week on YouTube. But that is not to say that there weren't definite highlights across the hour-long effort.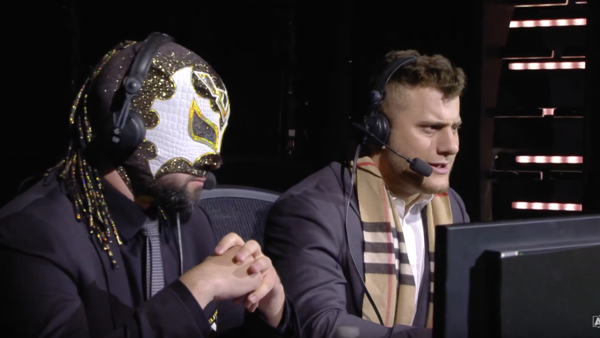 If anything, I think that aside from some pretty sweet in-ring moments, the real lifesaver of this week's episode was the inclusion of MJF on commentary, as the Burberry-scarfed 'fastest rising star in the whole business' sat in for JR alongside Excalibur. To put it as concisely as I'm able to…if he hangs up the boots and tights, he'll always have space at the announce booth. Natural, authentic, at times hilarious and always controversial, Maxwell Jacob Friedman provided one of the more entertaining colour commentary displays I've heard in a long time. He was like a 2019 hybrid of Jesse Ventura, Bobby Heenan and Jerry Lawler all rolled into one love-to-hate, hate-to-love package.
Shawn Spears w/ Tully Blanchard vs Michael Nakazawa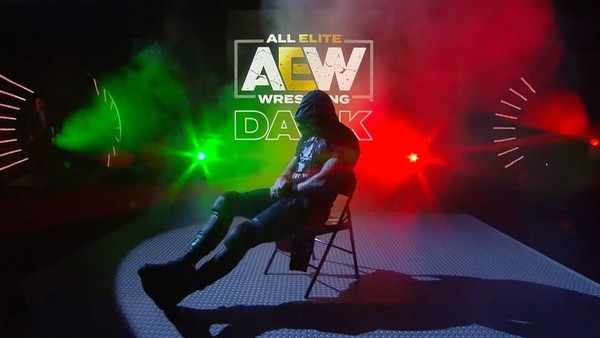 This week's opener was an odd one. Whilst seemingly totally mismatched and non-sensical to place these two men against each other, they pulled off a good multifaceted match that saw both men use their TV (or YouTube) time well but be under no illusion: it had to happen on Dark, it wasn't Dynamite-quality quite yet. The initial few minutes definitely sent the message to the viewer that this would be a comedic break in AEW proceedings, full of "weird, zany crap" as MJF said of Nakazawa's offence. Sure, you had the baby oil being poured all over Nakazawa and Spears flailing helplessly as he slipped on the lubricated canvas but as the match progressed, we did get to see something substantial – at least from the self-proclaimed 'Chairman of AEW'. For all of the wacky fun stuff the Japanese fan favourite was able to provide, Shawn Spears (complete with his now trademark haircut that only Stevie Wonder could have helped create – thanks MJF) was able to showcase he's a burgeoning thinking man's wrestler on times…as well as being more than capable of being downright mean and nasty between the ropes. After all, isn't that what you want out of your heels?
Impressed with @RefAubrey being able to keep her footing despite @MichaelNakazawa turning the ring into a Slip 'N Slide. #AEWDark

➡️ https://t.co/giTV9WFuvM pic.twitter.com/DZ0PrWigxd

— TDE Wrestling (@tde_wrestling) November 6, 2019
I can't tell you how big a fan I am of the former advocate of the 'Perfect 10'. Whilst it wasn't the case that I didn't enjoy his work in 'the other company', I think that the badass, take no prisoners evildoer role he's adopted since signing on the dotted line has done wonders for him and creatively, it's so much more appealing. Mix into that the addition of the legendary Tully Blanchard and Spears is in prime position for a major singles push in my humble opinion – his stuff with Cody was nothing short of fantastic to this hard-to-please wrasslin' fan and I'd like to see him reassert himself in the primary storylines sooner rather than later. Get him back on AEW Dynamite and tell him he can bring that Blanchard-inspired slingshot brainbuster finishing move with him.
Mercedes Martinez & Big Swole vs Sadie Gibbs & Allie
I'm with MJF, I don't know what it is but I just can't get behind Allie. I don't think it's the fact she's constantly grinning at something or another but rather I'm just not sold on her as a wrestler yet. It may come across as rude but I just haven't seen anything that's made me think… "ok, that's why she's here" yet. Not when you compare her to other members of the Women's Division. She even felt like the weakest link in this match and let's face facts: the 4 women in the contest were essentially thrown together seemingly at random as it was.
Two-on-one advantage for @AllieWrestling and @SadieGibbs! #AEWDark

➡️ https://t.co/giTV9WFuvM pic.twitter.com/YnyJVUrZB1

— TDE Wrestling (@tde_wrestling) November 6, 2019
It was another impressive outing for 'The Undefinable' Sadie Gibbs, as the Brit showcased her raw power and strength throughout a match that definitely improved as it went on, after what I can only call a flat and stuttering start. It's important to remember though that Gibbs isn't just some powerhouse, she's got some technical ability to go with that. She's as athletic as she is strong, as some of her aerial moves showcased and after seeing her performance in last week's fatal four-way match, I'd like to see her on Dynamite and maybe get amongst it with someone the calibre of Nyla Rose.
Big spinebuster from @RealMMartinez! #AEWDark

➡️ https://t.co/giTV9WFuvM pic.twitter.com/ABHhPaWtMl

— TDE Wrestling (@tde_wrestling) November 6, 2019
What did work during the match however was Mercedes Martinez and Big Swole. I've been impressed with Martinez since first seeing her on the Mae Young Classic and she continues to be one of my new era ones-to-watch, with her putting on a great showing on this week's episode of Dark, where Excalibur and MJF heavily implied she had taken on a sort of mentor role for the other legit hoss in the match: Big Swole. The Clearwater, Florida native is also a former MYC entrant and may have matched Sadie Gibbs this week as the woman who stole the limelight best when given the opportunity.
.@SwoleWorld said knock you OUT! #AEWDark

➡️ https://t.co/giTV9WFuvM pic.twitter.com/8d2f5mpCi4

— TDE Wrestling (@tde_wrestling) November 6, 2019
It may have been the cartwheel into a superkick combo or the ripcord elbow shot to Allie but there's something altogether refreshing about women wrestlers who are not afraid to chuck it about and get tough between the ropes. It's a reminder of how far the women's evolution has come from that Bud Light Pillow Fight match at WrestleMania XIX. A match that didn't look like it would get out of the starting blocks ended triumphantly though, with the nice savant kick/moonsault double-team ending the much more believable pairing of Martinez and Swole's debut tag team outing with a 1-2-3.
Britt Baker vs Bea Priestly to collide at AEW Full Gear
Now, this was a highlight of Dark this week. A heartfelt, raw and impassioned promo from Britt Baker where she was showing why she may be the best signing in the women's locker room. It bled animosity through the TV screen and was not unlike the fabulous PAC promo from a few weeks ago. Referring to Bea Priestley as a "piece of shit", the Doctor of dentistry promised the New Zealand-born Priestley one thing: she would "rip (her) fucking jaw off (her) face". Brilliant. That showdown will be worth tuning into the Full Gear Buy-In alone.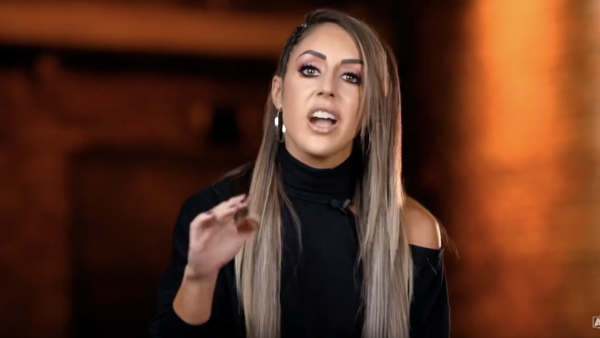 And if you're looking for one of the many reasons to purchase the PPV, the contract signing recap video for Jericho vs Cody may get you in the mood… maaaaaaannnnn.
From Undesirable to Undeniable: Jimmy Havoc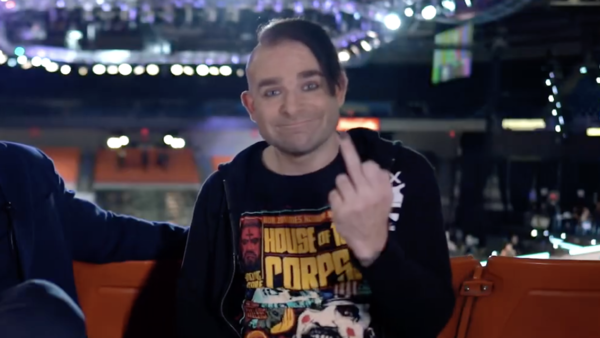 Whilst I appreciated the House of a 1000 Corpses t-shirt and finding out that Havoc was a film degree graduate (which explains his penchant for engaging horror promo videos), this week's From Undesirable to Undeniable definitely didn't pack the same punch or reveal much about the man behind the Jimmy Havoc character as the previous webisodes with Cody have gifted the AEW fanbase. All you really got out of the segment was that the gore master of Camden Town had been passed upon for years and was essentially undesirable in that nobody wanted to sign him to a big company and now he was in AEW, it was essentially a big ol' f*ck you to the haters.
Jurassic Express vs Jimmy Havoc & 'Bad Boy' Joey Janela
This week's main event was a solid outing, that much is undeniable. Whilst I still think that Luchasaurus is being desperately missed by his tag partner, there's no doubting that Jungle Boy and Marko Stunt are trying the best to make the best of their situation. Fresh off the sit-down with Cody, Havoc took the opportunity to show he wasn't just all about violence and deathmatches but rather that he could lock horns and go toe-to-toe from a technical perspective. I say that, remembering that Havoc took to biting his opposition in yet more unconventional offence, something that Jungle Boy was more than happy to reciprocate.
.@JANELABABY and @JimmyHavoc wipe out Jungle Boy! #AEWDark

➡️ https://t.co/giTV9WFuvM pic.twitter.com/2bIko8dOMr

— TDE Wrestling (@tde_wrestling) November 6, 2019
The teams went back-and-forth for nearly 15 minutes, with the aerial expertise and body-on-the-line high flying assault of Jurassic Express proving a worthy foil for the steadiness of Havoc and Janela. The true talking point, however, came in the interaction between tag partners, as an again-impressive Joey Janela took to using a staple gun on his fellow purveyor of violence in an unannounced piece of hardcore wizardry that drew the claret. With him effectively sidelining his own partner, Janela then wrapped things up with a quite frankly wince-inducing avalanche package piledriver to the diminutive Stunt to end the match.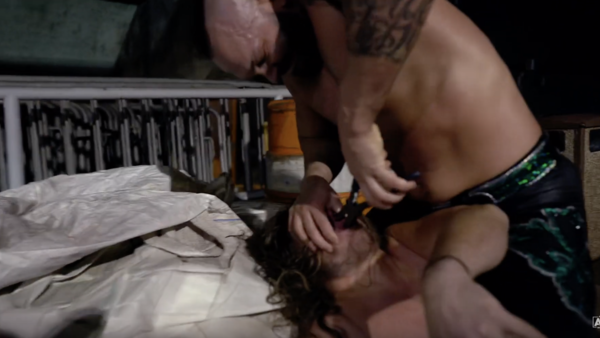 For those thinking that the hour was done and dusted, you'd be remiss not to have watched it all the way through to the end credits, as Janela was ambushed by Shawn Spears and Tully Blanchard in retribution for their last run-in. Seemingly not done with just telling the 'Bad Boy' how disappointed they were he smoked cigarettes, the programme finished with a heinous horror-movie inspired attack on Janela that saw Spears forcing pliers into Janela's mouth and forcing a cigarette down his throat as the screen cut to black. Some pretty provocative stuff that will inevitably give the two men justification to meet this weekend on pay-per-view, where they're capable of putting on an under-the-radar gem.
All pics courtesy of AEW, tweets courtesy of TDE Wrestling