After a rip-roaring episode of Dynamite, Pittsburgh's edition of AEW Dark wasn't about to let up. Far from it in fact – with a 3-match card that refused to go quietly without turning some heads in the process.
QT Marshall & 'The Librarian' Peter Avalon w/ Leva Bates vs Sonny Kiss & Dustin Rhodes
QT Marshall may have been the subject of Cody Rhodes' From Undesirable to Undeniable segment last week but this time around the apple-eating all-rounder started off the show as one half of a seemingly forced together tag team with 'The Librarian' Peter Avalon. It was, unfortunately, another week of weak, strained promos from the moustachioed book lover, as Avalon seemingly struggles to find his way on the mic. Only calling how I see it, boys and girls!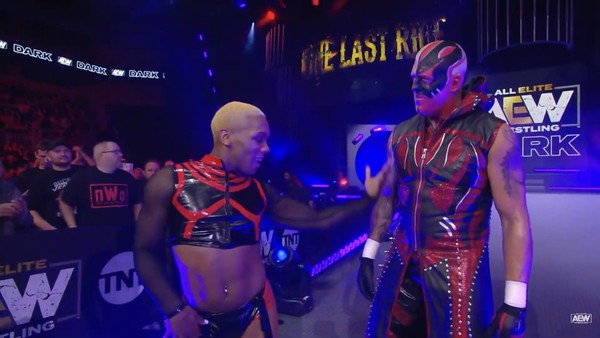 As for their opponents, Rhodes and Kiss really are the tag team that you never knew you needed to see before this week. Adorned in matching attire, the two fan favourites seemed like a great pairing right from the off, with 'The Natural' blending elements of that iconic Goldust persona in with the androgynous and highly sexualised unorthodox in-ring style of 'The Concrete Rose'. When you talk about Kiss's in-ring prowess, however, you'd be remiss to not consider him as one of the premier athletes in the whole company – his flexibility and athletic ability alone is nothing short of fantastically impressive and man, can he work that 20×20. As far as Dustin Rhodes goes, he's the definition of a human fine wine – he literally isn't slowing down and he's seemingly getting better with age. It's definite that AEW has given him a lifeline and revitalised maybe one of pro wrestling's all-time great ring psychologists.
Doesn't get much better than that signature @dustinrhodes powerslam! #AEWDark

➡️ https://t.co/GjGeUQySd8 pic.twitter.com/XtgilpcyiH

— TDE Wrestling (@tde_wrestling) October 29, 2019
Eventually, however, the disjointed tag team of Marshall and Avalon's fortunes weren't just confined with struggling to get over with the crowd but rather being the duo in receipt of the 'L', as Goldust closing the book on 'The Librarian' with the Final Reckoning to pick up the 3-count.
Sadie Gibbs vs Penelope Ford vs Allie vs Emi Sakura (Four Way Match)
Is this real life? Or is this just fantasy? @EmiSakura_gtmv with the VaderBomb! #AEWDark #gtmv

➡️ https://t.co/GjGeUQySd8 pic.twitter.com/4d3nNxUq5h

— TDE Wrestling (@tde_wrestling) October 29, 2019
In a virtual United Nations of the AEW Women's Division, the Steel City crowd got to see a taste of some of All Elite Wrestling's international female talent in an always entertaining four-way match. What would make it more interesting? It was one fall to a finish. No eliminations here. The main question I had for a long portion of the match. However: why are Emi Sakura's entrance and ring gear inspired by Freddie Mercury's 1986 Wembley appearance? I'm not complaining – I love Queen… but why?!
Allie proved she was more than just the constantly jovial Canadian with a lovely double-hitter that saw her both land a running elbow strike on a seated Penelope Ford and a baseball slide to Sakura, who was finding her bearings on the outside before teaming up with Ford to take down the very impressive Londoner Sadie Gibbs, who really shone bright during this fierce battle for female supremacy. I'd not seen Gibbs before but she really is something special – strong, athletic and credible as a legit badass, with her nickname being more than just an easy-to-market moniker. Maybe Excalibur said it best when I said that he wouldn't want to slug it out with Sadie Gibbs – I definitely can't blame him. 
.@AllieWrestling and @thePenelopeFord make a great combo! #AEWDark

➡️ https://t.co/GjGeUQySd8 pic.twitter.com/GzHCN4sMtY

— TDE Wrestling (@tde_wrestling) October 29, 2019
After the conclusion of last week's Dynamite main event ending in a time limit draw, when Justin Roberts announced there were just 2 minutes remaining in the match, it really did create a sense of tension and urgency that you just don't get with your regular run-of-the-mill wrestling show. No fear of that for an outcome though, as Emi Sakura picked up a sudden but statement-making first win in All Elite Wrestling by pinning Penelope Ford with an under-hook powerbomb. Take a bow ladies, you're proving why Brandi Rhodes continues to champion your cause.
From Undesirable to Undeniable: Maxwell Jacob Friedman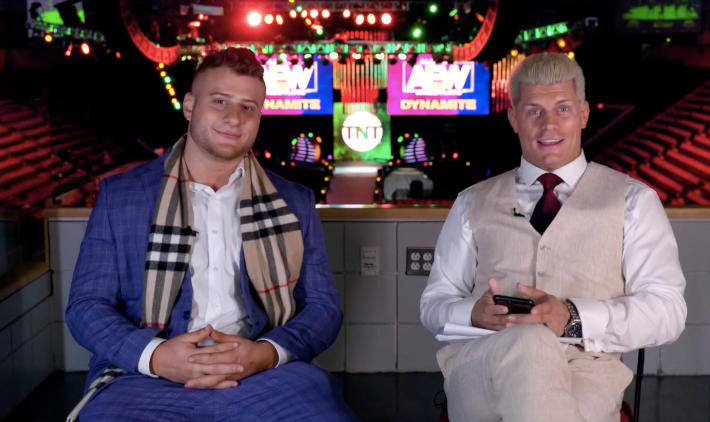 There are few heels at the moment that are consistently on form as MJF, however, what makes him so enticing from a viewers perspective is you just can't ever quite work him out. Is it all a work? Is he really that much of an arsehole? But he knows how to work the audience and the wrestling community into a frenzy with his self-centred and better-than-everyone-else attitude: plus the guy can wrestle and has a great look. However, in this brief sit-down with his bestie, we saw a different side to Friedman as he described a difficult school life which saw him persistently bullied and inspired to morph into the MJF we know and love/hate. It was short and sweet but yet exactly what it needed to be. As thought-provoking as anything the young New York native has done since signing with the promotion.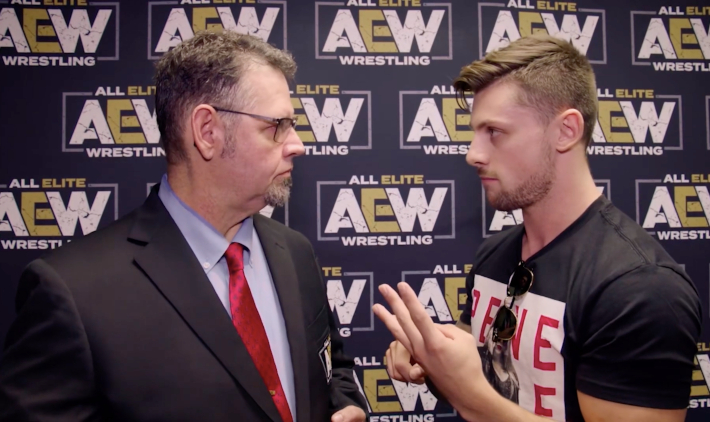 After Tony Schiavone pumped the next round of Dynamite matches on the horizon, it was only fair we had another wonderfully put together video package to hype the finals of the AEW World Tag Team Championship. Be under no illusion, SCU vs the Lucha Bros will be off the hook. I think if anything, it also shows just how incredibly deep and rich the talent roster is for the extremely entertaining tag team division.
Kip Sabian is up next and he's got a gripe against The Elite, namely challenging the Young Bucks & Kenny Omega to a match on Dynamite this week. But he won't be alone of course, he's teaming with the shiny black and green outfitted duo of The Hybrid 2. He does the cocky, too cool for school young prodigy very well. If you've seen him in the ring, you'll know he can back it up. I liked the segment for no other reason other than the fact he told Alex Marvez to effectively shut his mouth… which is never a bad thing to do in my humble opinion, sorry Alan… I mean Alex.
Darby Allin vs Jimmy Havoc vs Jack Evans (Three-Way Falls Count Anywhere Match)
Code Red from @DarbyAllin! #AEWDark

➡️ https://t.co/GjGeUQySd8 pic.twitter.com/gi3haJDk0i

— TDE Wrestling (@tde_wrestling) October 29, 2019
Aubrey Edwards had to know she would have her work cut out with this one. Three of the most combustible, wildly unpredictable stars of AEW meeting in a match with no disqualifications, where falls literally count anywhere: what could go wrong? To recycle a Jim Ross favourite, this match had the potential to be a total 'human demolition derby' and it didn't disappoint the packed house in Pittsburgh.
The match wasn't restrained to the confines of the ring for long, as all three men battled to the outside and through the crowd before settling on the stage area to do battle with some brilliant high spots and stage dive moments (let's not discount Jimmy Havoc and Jack Evans in a reversathon of all sorts reverse suplexes), before Jack Evans segregated Havoc into a one-on-one situation in the ring and looked sure to do some chair-based damaged to the dangerously devious Brit before the arrival of Allin, which only led to some cringe-worthy moments in the latter stages of the match, notably a brain-rattling Tiger Driver 98 to Darby Allin on a steel chair.
Bonkers match between @JimmyHavoc, @JackEvans711 and @DarbyAllin! #AEWDark

➡️ https://t.co/GjGeUQySd8 pic.twitter.com/iUqOUSGU3p

— TDE Wrestling (@tde_wrestling) October 30, 2019
The real question may be how Havoc kicked out of the one-two punch of a backbreaker into a chair followed by a scintillating 550 Splash from Evans….you have to see it – it's grotesquely wonderful. How do you top that for a spot in this match? Why it's simple! Get Jimmy Havoc to deliver a top rope piledriver to Jack Evans through a table and then have the amazingly agile and masterfully macabre Darby Allin perform a sublimely executed Coffin Drop with a chair onto the multi-time deathmatch survivor to pick up a huge victory as his stock continues to rise and rise. What a finish to another great outing for AEW on free television…if you're not already watching this stuff, then you're the ones who should be asking the question because All Elite Wrestling continue to have the answers.
Photos from AEW. Videos from TDE Wrestling/AEW