Rating:
When Lisbeth Salander first made her cinematic debut back in 2009, you could tell that she was not a character that would fade away. But The Girl with the Dragon Tattoo was a Swedish film, based on Swedish author Stieg Larsson's now famed Millenium trilogy, so Hollywood would eventually come calling. A remake and two new books in the series later, the opportunity to once again bring Lisbeth to the screen seems like an opportunity not to be missed. But The Girl in the Spider's Web is very different to the films that preceded it.
Following on directly from David Fincher's The Girl With The Dragon Tattoo, Lisbeth (Claire Foy) is now a vigilante,  targeting misogynistic men, among other jobs. She accepts an assignment from computer programmer Frans Balder (Stephen Merchant), responsible for software capable of controlling global nuclear weapons for the Americans, NAS. Knowing how dangerous it is, he asks her to steal it back so he can destroy it. However, Lisbeth's actions set off a series of events that may lead her into the clutches of a mysterious terrorist pursuing the same technology (Sylvia Hoeks), who's dark past intertwines with Lisbeth's. With an American NAS agent, the police and a terrorist group after her and Balder, she turns to journalist and old friend/lover Mikael Blomkvist (Sverrir Gudnason) for help.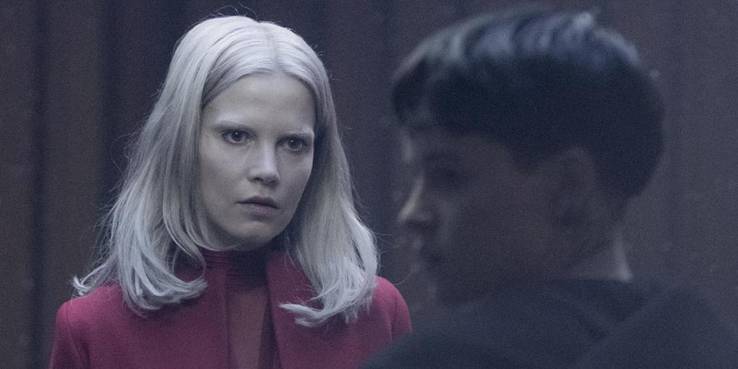 While the world carries on around her, Lisbeth underground vigilantism cannot disguise a broken quality. This is hinted to be the supposed death of her sister, or it might be her lack of contact with Blomkvist. He too seems to continue with his life but can't seem to write anything unless Lisbeth is connected. The great dynamic and chemistry between the two characters in Fincher's instalment is deliberately muted here, showing that things are not the way they were but open to change in the future. For now though, they work alone, which is never the best plan, but does lead to excellent scene set-ups.
The film marks the first time Lisbeth is haunted by her sister, Camilla, beginning with an opening scene that doesn't really give the impression that they were close. Lisbeth later claims that Camilla was a psychopath, just like their father. But it seems a strange moment in time to dig up this family member from the past. In some respects, the opening flashback scene establishes Lisbeth's character arc, reminding the audience that although Lisbeth fights for women, there is one she left behind, resulting in years of guilt. However, it's a confusing character plot hole that remains underdeveloped.
Although the film is meant to be as if we picked up from the end of the last film, the film itself feels like its own story. Fincher's remake had the grit and violence of a true detective crime story, with characters that felt moulded into the fabric of the world they inhabited. But as with Fincher's film, they have an advantage. The American remake was sleek, somewhat elegant, elaborately shot with a cast to match. But Spider's Web feels as if it's a mash up of both this and the original Swedish adaptations starring Noomi Rapace. The casting decisions across the board are odd, as if the casting director looked up 'who's who in TV now' and European actors who were in recent cinematic hits, all except for Lakeith Stanfield who is perfect as the American outsider. Claire Foy as Lisbeth Salander is down played in every aspect compared to the previous incarnations. Less overtly punk, wearing very plain black clothes, her hairstyle simplified, she reflects a down trodden version of Lisbeth, but no less wise or angry.
If viewed as part of a series, there are too many questions that arise and could potentially ruin a good thriller with characters you may know. As a stand-alone film, its satisfying enough with a intriguing plot and, again, great characters. Just don't go waiting for a follow up anytime soon.
Dir: Fede Alvarez
Prd: Scott Rudin, Eli Bush, Ole Søndberg, Søren Stærmose, Amy Pascal, Elizabeth Cantillon
Scr: Jay Basu, Fede Álvarez, Steven Knight
Cast: Claire Foy, Sverrir Gudnason, LaKeith Stanfield, Sylvia Hoeks, Stephen Merchant, Claes Bang
DoP: Pedro Luque
Music: Roque Baños
Year: 2018
Country: Canada, Germany, UK, USA, Sweden
Runtime: 117 minutes
The Girl in the Spider's Web is available on Digital, Blu-Ray, DVD and 4K Ultra HD now.