We've had a disappointing stretch for NJPW since Dominion. Then again, by New Japan's standards, even straight 7s and 8s out of 10 is a disappointment.  With this King Of Pro Wrestling show, they have a chance to add some much-needed excitement into the product and with the IWGP Junior & Junior tag belts plus the Heavyweight & Tokyo Dome Certificates on the line, there was a lot of potential with this show. But could they deliver?
IWGP Junior Heavyweight Tag Team Championships: Suzuki-Gun (Yoshinobu Kanemaru & El Desperado) (c) vs Tiger Mask & Jyushin Thunder Liger
Suzuki Gun gonna Suzuki Gun as we have the usual douchebaggery from grumpy Kanemaru and Despy.  The bad guys worked over Tiger Mask and kept trying to pull his mask off until Liger got in to beat some ass.  A whiskey bottle shot and low blow led to the Pinche Loco from Despy on Tiger for the win.  Quick and fun opener.
Winners: Suzuki Gun Rating: 5 out of 10
Juice Robinson & Toa Henare vs Tomoaki Honma & Togi Makabe
A lot of back and forth action with no clear heels to have an extended heat segment.  Henare and Juice are a good team but put over the veteran team who will start picking up wins ahead of Tag League season.  Makabe pinned Henare after a King Kong Knee Drop.
Winners: Togi Makabe & Tomoaki Honma Rating: 4 out of 10
Bullet Club Elite (Matt, Nick Jackson, Chase Owens & Hangman Page vs Firing Squad (Tama Tonga, Tanga Loa, Bone Soldier Taiji Ishimori & Bad Luck Fale)
This was a step above your usual undercard multi-man tag.  Except when Tama Tonga was in the ring alone, but that's a given.  The Elite side of this match brought it as the Bucks had their usually great tag offence, Chase Owens continued to be the true ace of Bullet Club and Taiji Ishimori did cool junior things so Firing Squad could look good.  In the end, a 3-D to Owens got Tonga the win.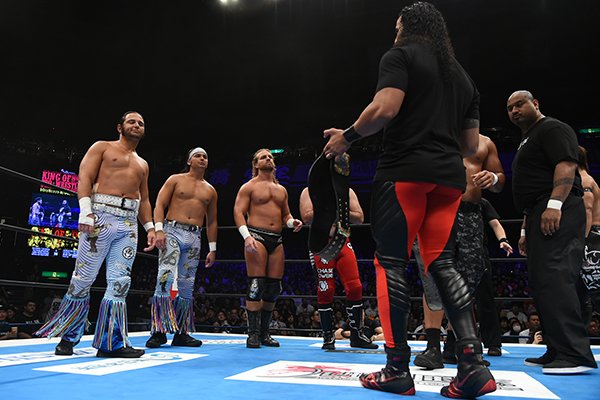 Winners: Firing Squad Rating: 5 out of 10
Suzuki-Gun (Minoru Suzuki, Takeshi Lizuka & Taichi) vs CHAOS (Tomohiro Ishii, Hirooki Goto & Will Ospreay)
The CHAOS trio were rolling at the start, they worked really well together and I wouldn't mind seeing these three in NEVER six man contention.  Once Suzuki Gun settle in and be Suzuki Gun skip to Ishii and Suzuki beating each other up and enjoy Murder Grandpa looking like he wants to mame Ishii.  From here on the match breaks down as Ospreay and Taichi are left alone.  OSPREAY WITH A SPANISH FLY, STORM BREAKER OSPREAY PINS TAICHI.  OSPREAY JUST PINNED A HEAVYWEIGHT!
Winners: CHAOS Rating: 4 out of 10
Post-Match: Ospreay. Wants. The. NEVER. Belt
Pre-match that cool as hell LIJ video plays.  I like how they have Hiromu represented with his jacket and Daryl.
Los Ingobernables De Japon (BUSHI, SANADA, Tetsuya Naito & X) vs CHAOS (Sho, Yoh, Toru Yano & Kazuchika Okada)
HERE WE GO!  Who is X? "The Dragon" SHINGO TAKAGI!
These teams are no strangers to one another as they have had many multi man matches.  There was an added emphasis this time of making sure that Shingo looked good against Sho and Yoh.  In the end, Shigo hit Last Of The Dragon on Sho for the win.  Good actiona as always with bodies flying everywhere and a clear point to the match.
(HI JOZEF,  PLS ATTACH GIF OF TAKAGI'S FINISHER THANKKKKSSSS)
https://twitter.com/totaldivaseps/status/1049234545139179520
(Done – Joe)
Winners: LIJ Rating: 6 out of 10
EVIL vs Zack Sabre Jr.
TAKA introduces ZSJ because it is time for EVIL to Come. Over. Here.  EVIL gets a special entrance with a throne and druids.  ONE OF THE DRUIDS ATTACKS! IT'S JERICHO!
ZSJ is unhappy at the forfeit, attacks officials and traps EVILs arms in a modified butterfly lock.  NAITO MAKES THE SAVE. So we've got EVIL vs Jericho & Naito vs ZSJ to look forward to.
IWGP Junior Heavyweight Championship- KUSHIDA vs Marty Scurll
The story of this match was how evenly matched these two were.  From the early grappling to trading quick pins they went on to swing momentum back and forth until the arm work started.  Scurll had control but KUSHIDA was using his abilities to create openings for himself.  In the end, KUSHIDA was too good for Scurll and got the win.  Not the best Junior title match of the year but as good as expected from these two.
Winner: KUSHIDA Rating: 7 out of 10
Tokyo Dome Main Event Certificate: Hiroshi Tanahashi (h) vs Jay White w/ Gedo
White and Gedo set out to cheat as much as possible while damaging Tanahashi's back and knee.  White is so cocky, at one point he plays air guitar on Tana's hurt knee.  After a period of White dominance, Tanahashi hits the high fly flow to the outside but can't make the momentum last.  From here they go back and forth trying to get a foothold in the match.  Every time Tana looks like getting momentum White cuts him off as quickly as possible.  But Tanahashi's veteran instincts help him out as he takes advantage of every little opening that White affords him.  Tanahashi hits two high fly flows but Gedo pulls the referee out of the ring before he can count to three.  Gedo gets the taste slapped out of his mouth as White hits a low blow.  White gets a chair, and Tana replies with a Shinsuke of his own.  Tana tries to High Fly Flow onto the chair but it backfires.  White again has the chair in hand and cracks Tanahashi in the face with it.  Blade Runner REVERSED INTO A ROLLUP.
Winner: Hiroshi Tanahashi Rating: 6 out of 10
Post Match: White goes to hit Blade Runner on a downed Tanahashi.  Okada is here for the save.  Okada brings the fight to switchblade.  Attention turns to Gedo.  Jado is out to prevent Okada hurting Gedo, and now firing squad are here! WHAT ON EARTH IS HAPPENING.  Gedo, Jado and Firing Squad put the boots to Okada.  White is back, Blade Runner to Okada.  So Jay White is with the Firing Squad.
IWGP Heavyweight Championship: Kenny Omega (c) vs Kota Ibushi vs Cody
WHY IS CODY IN ANOTHER MAIN EVENT TITLE MATCH WHYYYYYYYYY.  Ok now that that's out of my system let's hope the Golden Lovers team up and murder him for 40 minutes.  What we get is something outside of the usual triple threat match formula.  A lot of the action involved all three men in the match with numerous three-way spots and interruptions.  The match really steps up a level when Cody goes through a table leaving the Golden Lovers to go at it.  We ratchet up another notch again when Kota Ibushi gets PISSED OFF after Kenny prevents the referee from counting to three and costing Kota the win.  From that point on we had teases for everyone winning until finally Omega hits the One-Winged Angel on Ibushi and Cody can't make it in time to stop the 3 count.  For a match that received criticism from all corners after it's announcement, this one over-delivered and continues the BCElite's kinda ok but kinda tense situation.
Winner: Kenny Omega Rating: 7 out of 10
This is exactly the show New Japan needed.  Interest in the promotion will be much higher coming out of this show as the direction Power Struggle and Wrestle Kingdom are starting to become clear as well as the lines being drawn in CHAOS vs Jay and Jericho vs LIJ.