Rating:
Unlike the famous line, 'Of all the gin joints in all the towns in all the world, she walks into mine', in Bagdad Café, of all the middle of nowhere cafes slash gas stations; Jasmin had little choice but to walk into Brenda's. But theirs isn't a story of romance, theirs is unlikely friendship and with it happiness from an unexpected place. Celebrating its 30th Anniversary this year, Studio Canal has taken the opportunity to give this indie classic the restoration treatment. Its odd, eccentric charm doesn't over power the simple story about friendship, how to make a perfect coffee and magic.
Loosely based on Carson McCuller's novella, 'The Ballard of the Sad Café', director Percy Adlon, uses Jasmin, played by Marianne Sägebrecht, as the outsider in a strange new place. But instead of finding a town or city, she is places even further outside, where a friends like her's with Brenda, played by CCH Pounder, can blossom. The film inspired a TV series of the same name starring Whoopi Goldberg as Brenda and Jean Stapleton as Jasmine, making the latter an American tourist. The series lacked the magic sparkle of the original film and was cancelled after two seasons.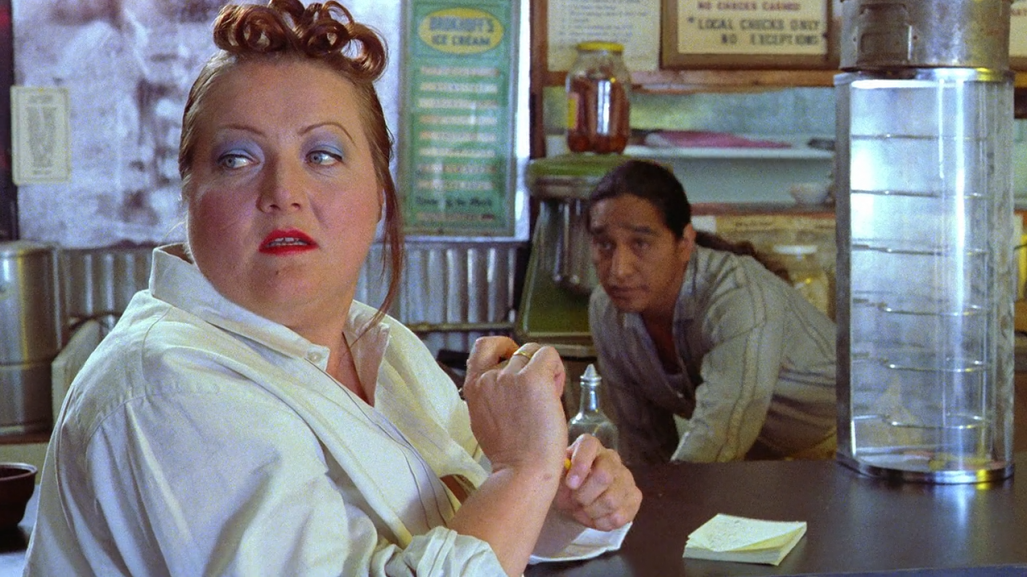 After arguing with her husband in the middle of the desert, somewhere between Las Vegas and Disneyland, German tourist Jasmin Münchgstettner hits the road, walking until she finds, the run down dusty Bagdad Gas & Oil Café. Brenda, who runs the motel and the café, mother of two and grandmother of one, has an awful row resulting in her husband leaving in a cloud of dirt and dust. As Jasmin settles into her new life at the motel, Brenda becomes suspicious of her, especially after finding out all Jasmin has is a suitcase full of men's clothing (a mix up with earlier with her husband). But after Jasmin cleans up Brenda's office, befriends the extended family of the café, the two becomes fast friends. Breathing new life into the café through magic tricks she taught herself and creating a show that is dubbed 'better than Vegas', the two women find their own peace but this harmonious life can't last forever, can it?
Magic and friendship play hand in hand, gradually building trust between the two leads as they ease their way in the new café life. Jasmin and Brenda come from very different lives and cultures, but these differences aren't over played, focusing more on the women's different personalities. Brenda's frustrating life of having to take of her teenage daughter who enjoys running off with truck drivers and a musically talented son who would rather play piano all day than take care of his baby, all in contrast to Jasmin's straight laced, hinted at dull existence. Both women express their changes through their clothes, Jasmin beginning in a tight skirt suit and eventually wearing a flowing white dress and Brenda starting out in old worn out clothes and moving into brighter patterns. They compliment each other with their talents too, Jasmin being the magician and Brenda the unexpected singer. Their performance near the end at the café to a full house, brings the film to a delightful close but the open ending gives hope that their adventures didn't stop there.
Dir: Percy Adlon
Prd: Percy Adlon, Dietrich von Watzdorf
Scr: Percy Adlon
Cast: Marianne Sägebrecht, CCH Pounder, Jack Palance
DoP: Bernd Heini
Music: Bob Telson
Country: West Germany, USA
Year: 1987
Running Time: 104 minutes
Bagdad Cafe is out on DVD, Blu-ray & Digital Download on 13th August