Known for quick-fire dialogue, it's no surprise that after Gilmore Girls: A Year in The Life, Amy Sherman-Palladino turned her incomparable talent to Jewish comedy in New York City circa 1958. Cue The Marvelous Mrs Maisel. Midge (Rachel Brosnahan), to be precise. The woman who has it all. A husband, two kids, apartment on the Upper West Side. Best of all, she's bagged the Rabbi for Yom Kippur dinner. What makes Midge Marvelous isn't her impeccable brisket or how she sits tirelessly through her husband's doldrum stand-up routine, but it's her phoenix-like resilience. The show is bawdy, hilarious, empathetic, quiet, loud, very, very Jewish, and very, very funny. For all these reasons, you should be watching The Marvelous Mrs Maisel.
While some viewers might need a dictionary for words like mezuzah the fact that no definition is given is what makes Mrs Maisel authentic. There is no shoehorning to explain Jewish culture to viewers. The sheer Jewishness of it is not a wall. Instead, combined with the layers of humour, parental indignation, and intimacy between characters, any viewer of any religion or ethnicity can tap into the frustration, pain, and jokes that Mrs Maisel rapid fires. Whether used defensively or for entertainment, Midge never shies away from the things that have most pained her and most defined her. Not only as a woman, mother, and wife but also as a comedian.
For any New York-ophile, the show casts Manhattan in a technicolour glow. From the Gaslight to the Upper West Side to B. Altman's, the New York landmarks are abundant. The disparity between UWS money and downtown grit are thrown into hyper-contrast. Midge's sprawling apartment compared to her manager Susie's (Alex Borstein) shoebox with a murphy bed is exaggerated, but so is the show.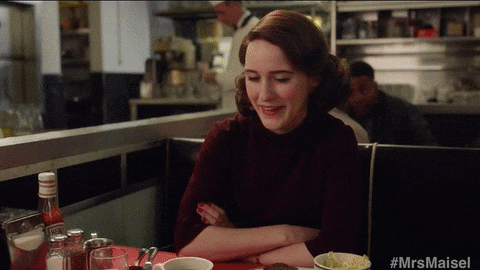 If you don't like any of the above, there's still something in The Marvelous Mrs Maisel for you. The humour. Each line is biting, witty, and reveals a deeper human truth.  We are all searching for our place. For some, that place is harder to find. Without spoiling, Midge comes up against the ultimate betrayal. She comes up against the male-dominated world of comedy. She comes up against her parents' inability to understand why she wouldn't take her husband back. Midge pushes against traditional envelopes almost without a second glance, and as a viewer you find yourself rooting for her.
Still in doubt? The show just picked up two Golden Globes, including Best Comedy.
Of course, no one – and no show – is perfect. Midge is an almost unbelievably neglectful mother, though put her in comparison to Carrie on Homeland and she's a dream. The stereotype of Jews and money is tired, and they peddle mercilessly in it. And yet, stereotypes need to be challenged in a variety of ways, and heightening them for satirical comedic purposes is one of them. In the case of The Marvelous Mrs Maisel, it works.
There are dissenting opinions, and they're not wrong. But give the show the benefit of the doubt. Its humour, its strong-willed female protagonist, and its chutzpah are a force to be reckoned with. It is a show about revenge, redemption, suffering, and victory. Themes very Jewish, but also very human.
The Marvelous Mrs. Maisel is available on Amazon Prime
Created by: Amy Sherman-Palladino
Starring:  Rachel Brosnahan, Alex Borstein, Michael Zegen
Country: USA
Year: 2017