When Finland based Rovio Entertainment, the group behind the Angry Birds videogames, announced a film adaptation of its headline series it probably made sense at the time. Angry Birds had become a cultural flashpoint of the mobile gaming industry and following the successful development of a cartoon show based on the rage fuelled birds their decision to take a leap into the cinematic arena seemed plausible when you consider the incredible success of titles such as The Lego Movie. However since work on the film had begun the popularity of Angry Birds has declined resulting in Rovio Entertainment laying-off (no bird-based pun intended) forty percent of its employees. Interestingly this venture to further illustrate the multi-media potential of the Angry Bird franchise may now be saddled with the responsibility of saving it. Having invested at least $80 million in producing the film, and another $100 million in marketing, it is by far the most expensive Finnish film ever produced and a box office bomb could lead to the capitulation of the entire company.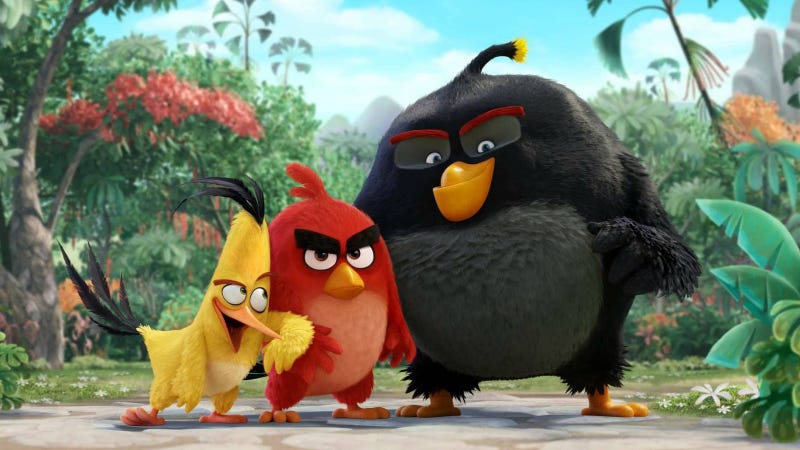 Red (Jason Sudeikis) is a bird with an anger issue. Following yet another rage-fuelled incident he is sentenced to undertake an anger management class ran by Matilda (Maya Rudolph). At first Red doesn't get along with the other members of the class which include the Speedy Chuck (Josh Gad), Self-conscious Bomb (Danny McBride) and terrifyingly huge Terrence (Sean Penn). However when some pigs arrive on the Island, led by Leonard (Bill Hader), Red believes they are up to no good and with the help of his fellow birds attempts to find out what the pigs are after.
Angry Birds throws a lot of jokes at you, and their quality is very mixed, from a frankly exhaustive amount of bird and pig based puns (Seriously, if you enjoy poultry based puns you will love this film) to a range of visual and sight gags that some of the younger viewers won't understand, and some of the older viewers won't find amusing. Having said that there are plenty of jokes that do hit the mark, and the frenetic pace of the film keeps you engaged with the action. Sudeikis is charming enough as Red to be likeable and is ably supported through the incessant energy of Gad and the surprisingly lovable Danny McBride. The story is kept very simple, and moves along with such speed that it never really allows any of the emotional moments the film does have time to breathe. Therefore Angry Birds does not offer as much pathos as films like Zootropolis, or the best work of Pixar, or even The Lego Movie but is still serviceable enough as an entertaining experience. Sony Pictures Imageworks have done a great job animating the film with a lush colourful atmosphere and nicely designed characters even if the world in which they inhabit seems a big rigid.
Overall I feel this is a pleasantly engaging movie with enough comic weight to yield a few laughs from even the staunchest objectors. Though not a masterpiece, or close to overcoming the better animated features of recent years, it is certainly not the cringe inducing film some had expected it to be when it was first announced. In fact, with little true competition, Angry Birds may be the best videogame to film adaptation of all time, though with Assassin's Creed out later this year it may not hold the title for long.
3/5
Director: Clay Kaytis, Fergal Reilly
Screenwriter: Jon Vitti
Cast: Jason Sudeikis, Josh Gad, Danny McBride, Sean Penn, Maya Rudolph, Bill Hader, Peter Dinklage
Producer: John Cohen, Catharine Winder
Music: Heitor Pereira
Country: USA, Finland
Year: 2016
Run time: 97 Minutes
Angry Birds is out now on DVD and Blu-Ray.