Hell or High Water is the new film directed by David McKenzie whose last film was Starred Up and is written by Taylor Sheridan whose previous film was Sicario. The story concerns brothers Tanner and Toby Howard, played by Ben Foster and Chris Pine, who set out to rob a succession of local banks in West Texas. They are pursued by Texas Ranger Marcus Hamilton (Jeff Bridges) and his put upon partner Alberto Parker (Gil Birmingham) who try to predict and prevent the next robbery. The film is ostensibly a cops and robbers movie but the film makers give the audience far more to consider in this expertly crafted modern cowboy tale.
Male relationships are central to the story, both between the brothers and the Rangers, examining the ways and difficulties men can have in expressing their love for one another. The brothers have very different characters, Tanner is the hot head who has spent much of his adult life behind bars and Toby the more considered of the two, so they combine to make the robberies possible and could not carry out the plan without each other. The brothers are criminals however it is easy for the audience to understand their motivations for committing the crimes and their seems to be nobility in their actions. The film does not shy away from the consequences of armed robbery which provides balance for the grey areas this film is exploring. It is hard for the audience not to wish that the brothers will complete their plan despite knowing that morally they should but caught and sent to jail.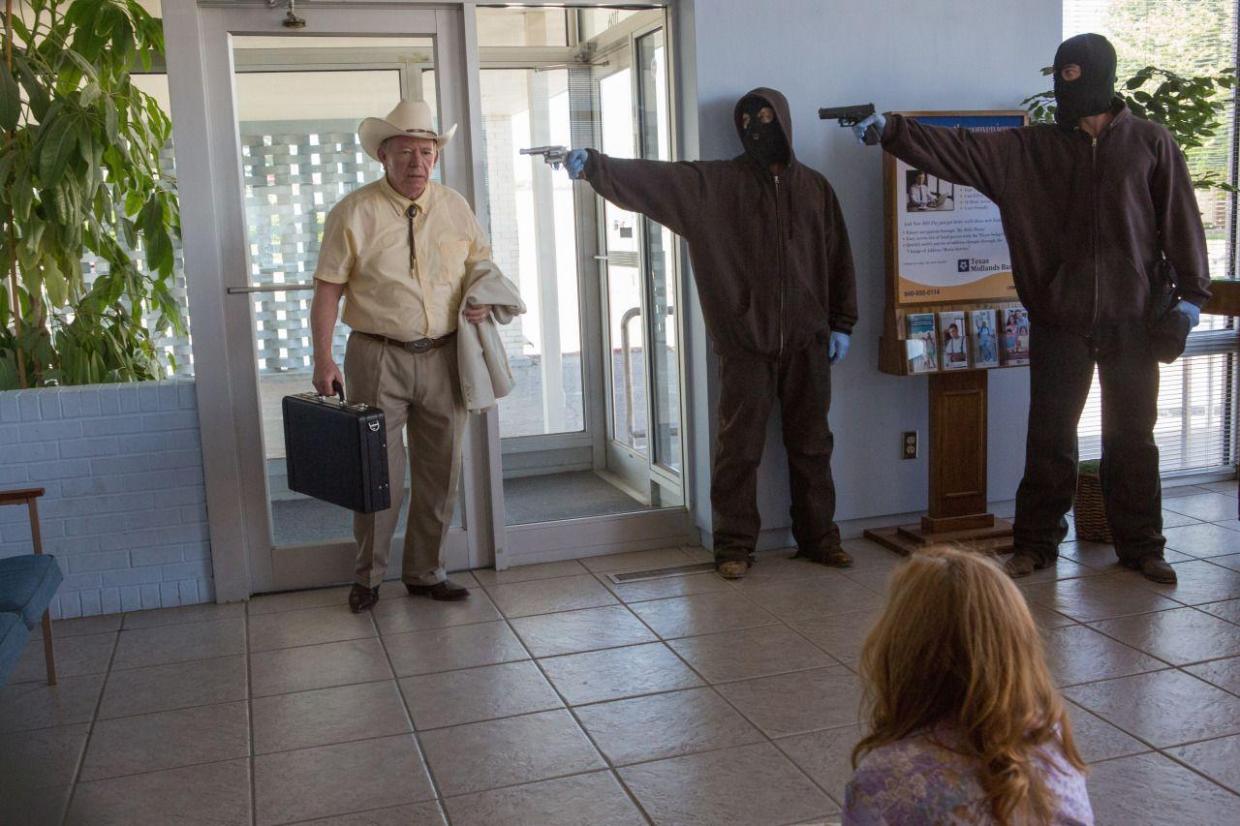 During the film being poor is referred to as a disease which is passed from generation to generation with the implication being that is also incurable, an accepted part of life. The struggle to survive financially is felt and expressed by many characters in the film, this area of America is no longer the prosperous place it once was. The rural existence that previous generations have enjoyed is no longer viable, this is expressed bluntly by a cattle farmer who says, "…no wonder my kids don't want to do this shit". The next generation has seen what their parents have endured trying to cling onto a dying way of life and want no part in it. Like so many parents, Toby wants his children to have an easier life than he has had and will do whatever is required to make that a reality, they will not be poor.
The cinematography is beautiful, the natural beauty of Texas juxtaposed with economically decaying towns. The pacing of the film is perfect, time is taken to develop the characters so that they are understood and their actions have real meaning. Jeff Bridges is perfectly cast as the grumpy but insightful Ranger, a man at ease with his surroundings but struggling with the end of his career. Chris Pine and Ben Foster give fine performances as the brothers, their relationship is utterly convincing and provides the most moving moments of the film. David Mackenzie is ideally suited to this material, an extremely talented director, he is equally adept at directing both the tense action sequences and the quieter moments between the actors. The script by Taylor Sheridan is excellent, a seemingly simple story which intelligently examines the U.S. at this time and male relationships. Hell or High Water is a thoughtful and adult film that respects its audience and delivers a truly satisfying cinematic experience.
4/5
Dir: David Mackenzie

Scr: Taylor Sheridan

Cast: Jeff Bridges, Ben Foster, Chris Pine, Gil Birmingham, Marin Ireland

Prd: Peter Berg, Carla Hacken, Sidney Kimmel, Julie Yorn
DOP: Giles Nuttgens

Music: Nick Cave, Warren Ellis

Country: US
Year: 2016
Run time: 102 mins
Hell or High Water is in cinemas now.