Over the next few months, the extraordinary landscape of the West Sussex countryside has been taken over by a series of outdoor sculptures created by new and established Chinese artists as part of their A Beautiful Disorder exhibition. Throughout the CASS grounds, artists have shown their ambitious sculptural techniques using a range of materials and styles, reflecting China's past, present and future relationship with the world at large. The total 16 contemporary pieces are vastly different yet come from one starting point; the historical relationship between the English and Chinese landscape aesthetics. They show each artists' unique view on politics and society while encouraging the viewer's thoughts and interaction.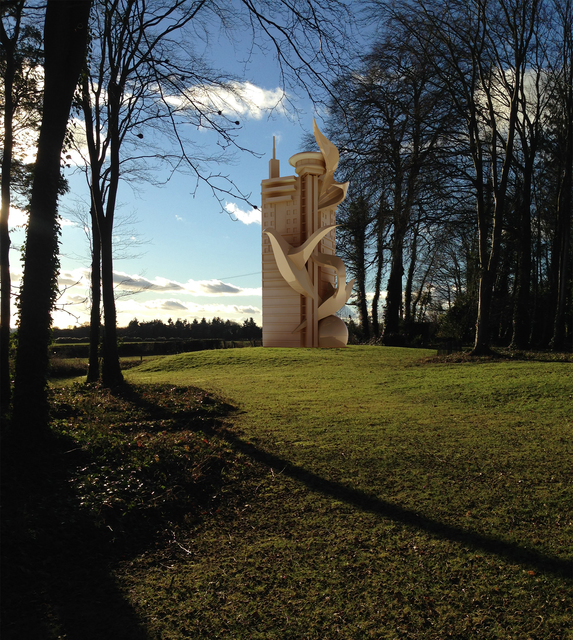 The exhibition itself is inspired by Jesuit missionary and artist Jean Denis Attiret, with 'a beautiful disorder' being a quote from an influential letter he wrote in 1743. In it, he describes how Chinese gardens often create opposing and sometimes violent sensations of viewers using framing devices. Each artist took their turn translating their starting point with outstanding pieces transforming how we view landscapes and the society that forms them.
Cui Jie is the creator of the golden 4.5m sculpture, 'Pigeon House,' that embodies the Chinese urban environment onto the English countryside. By twisting together international city styles, Jie hints at China's socio-economic development and explores the failed experiments of modernity. Song Ta takes a more political approach to the theme with the humorous installation based on the infamous bust of political figure, Chairman Mao. With the bust scarce of colour and the surrounded nature sprayed grey, Ta has formed a 'ready-made' black and white image of the historical figure, questioning the modern generations' cultural memory.
One of the more contrastingly colourful works is 'Sculpture of Thought' by Zhao Yao, a newcomer to the conceptual 3D world. The unusual piece is reminiscent of colourful children's building blocks, standing out amongst the natural setting looking almost unreal. He translates complex history into a form that tends to our childlike fascination with geometric shapes leaving his work open to interpretation and encouraging interaction.
The exhibition will run until November 6th 2016 in the grounds and galleries of the Cass Sculpture Foundation.
For more information on the foundation and the exhibition visit their website here.