84 artists, 35 countries and over 200 artworks
The Biennale of Sydney is Australia's biggest celebration of contemporary arts, all in one annual festival. It is held within 7 embassies located in Sydney. Now in its 20th year, artistic director, Stephanie Rosenthal has set a thought-provoking theme that artists and performers are invited to contribute to, creating an artistic explosion throughout the city. The theme – "The future is already here – it's not just evenly distributed" – is inspired by the quote of leading science fiction author William Gibson. The venues are conceived as 'embassies of thought' with each holding their own subject about something the director feels is relevant to the moment. With a significant number of artists work based in each location there is a whole adventure to discover.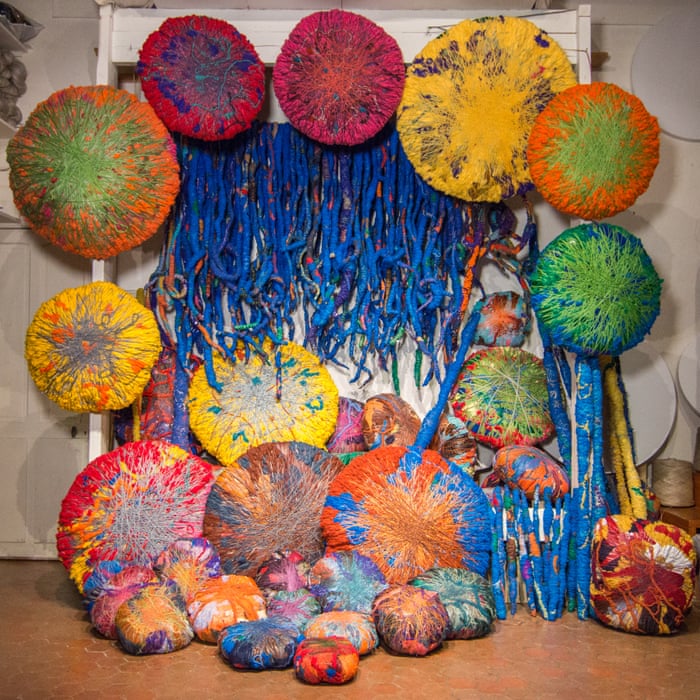 Sheila Hicks is one of these innovative artists, known for her wild and chaotic creativity in daring, experimental installations and this has not fallen short for the Biennale. Her work is displayed in the Embassy of New South Wales, known during the festival as the 'Embassy of Spirits.' Here artists are asked to explore the intersection between the spiritual and philosophical with works that are concerned with personal and religious rituals. The 7 unique artists that have displays here have done well to experiment with the theme with daring creations that go outside of expectations and give us different perspectives on how we view the world in different rituals. Hicks often criss-crosses between genres and disciplines displayed in art and design with vivid, fibre-based work using a variety of materials and textiles.
Her main sculpture for the festival, 'The Embassy of Chromatic Delegates', is an installation with a complex process of creation. Hicks has used her skills as a yarn spinner and textile artist to explore the presence of thread that is literally and metaphorically present in every facet of our existence. The enduring structure was created using a range of textiles and materials, from linen to bamboo, as well as pigmented fibres usually used for outdoor furniture. The result…an energetic, cluster of colours and textures forming a magnificent, oversized sculpture. Sheila's often produces work on monumental scales which she also displayed by covering a whole column at the front of the embassy. Responding to the space around her, Hicks' 'Welcoming Column' dressed one of the towering sandstone columns and gets visitors to already begin wondering what the rest of the exhibition will display.
The 2016 Biennale is held from 18 March – 05 June at the various embassies around Sydney.
The Biennale of Sydney visit the website
Sheila Hicks' website