At the time of writing, it seems that NXT is taking over the world. When it came to deciding on three matches of the week, after watching NXT: Takeover – Unstoppable it only seemed appropriate that all three matches came on that one night.
                                 Jack Richardson Says: Sasha Banks vs Becky Lynch
                                                   NXT Women's Championship
Match of the week does not do this justice, this is the match of the month. Two of, if not the two finest women NXT has to offer really produced a match worthy of main-eventing a NXT special. Lynch came out with a new fiery red head look but Banks couldn't be distracted. Move after move the two countered each other including a set of roll-up pins which really had the crowd involved. Despite being as powerful as she is, Becky Lynch met her match in her former ally. When Lynch thought she had Banks down, she would kick out and hit back with a hard-hitting and brutal move of her own. The match ended after Sasha Banks applied the Banks Statement and put Lynch down for the three count. This match really showcased the incredible talent NXT has to offer and it did not let up for one minute. From the get go this was a brilliant match, not only in terms of the wrestling on the night, but everything about it. Women will main event an NXT special, maybe even a Pay-Per-View in the not so distant future and I would bet my house that one of these women will be in that ring, doing just that.
                  Jack Richardson Says: Enzo Amore & Big Cass vs Blake and Murphy
                                                   NXT Tag Team Championship
It would be fair to say Enzo and Cass are the best tag team in NXT right now. This feud with Blake and Murphy took a while to get going but after a few backstage showdowns, this has really hit hard. With Carmella by the boys side and at the centre of the feud, she really adds a different element to this. The match started off with Blake and Murphy singling out Enzo and hitting incredibly quick tags whilst keeping him down in there corner. Big Cass eventually got the tag and laid everyone in sight out which put the self-proclaimed realest guys in the room in firm control. Here comes the twist, Alexa Bliss. Enzo was stood on the top rope ready to fly high, when Alexa Bliss came down to the ring and pushed him from the top rope, which gave Blake and Murphy the chance to come round and pin him, to keep the belts. Adding Bliss into the mix sets up a potential showdown with Carmella as well as keeping Enzo and Cass in the hunt for the titles. This really was a great match, which stood out amongst a heap of brilliant matches, which must make this special. Though Blake and Murphy stood tall at the end of Takeover: Unstoppable, Enzo and Cass will be wearing those NXT Tag Team Championships before you know it.
                                  Jack Richardson Says: Kevin Owens vs Sami Zayn
                                                               NXT Championship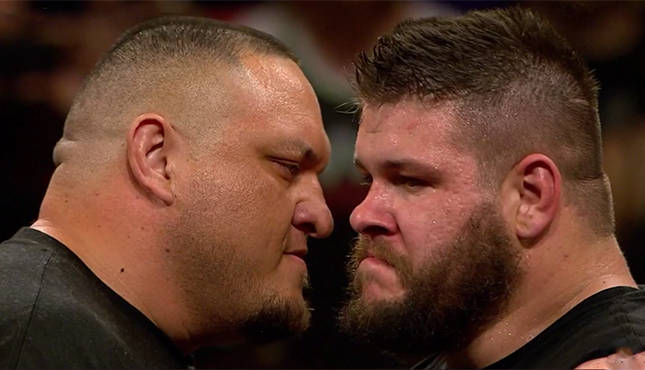 If Kevin Owens wanted to cement his place at the top of the Best Heel in the WWE list, coming to the ring in a John Cena t-shirt (his opponent at Elimination Chamber) did just that. These two have put on brutal matches in the past, as Zayn and Owens and especially as El Generico and Kevin Steen, so this had lots to live up to. The match was as brutal as every encounter before and you would never think that Zayn had an injured shoulder, or Owens was preparing to face John Cena the week after. The highlight of the match was on the outside of the ring, when Zayn put down Owens and set him up for a kick, but Owens turned this into a Pop Up Powerbomb onto the corner of the ring. This left Zayn sprawled on the floor. When he ended up back in the ring, Owens did not let up, pounding away at Zayn and he didn't stop until the locker room emptied and the pair where separated. It even took NXT General Manager William Regal coming to the ring. Owens headbutted Regal, which led to one of, if not the biggest moment NXT has ever seen. New entrance music hit and a huge SJ appeared on the tron, then the long awaited entrance of Samoa Joe to NXT came. Joe walked down to the ring and went face to face with Owens, nose to nose staring into Owens eyes. Before anything erupted Owens left the ring with Samoa Joe's eyes burning the back of his head. Owens came back out and looked set to get in the ring with the Samoan Submission Specialist but ended up turning his back. This sets up what could be the biggest feud NXT has ever seen. The move set and talent Joe brings to NXT is unrivalled and the line-up of potential matches he could have is endless. This ended a huge match and a huge show, with a no contest. This means that the Owens/Zayn saga is not over, however Samoa Joe is going to create a whole chapter in it of his own.